awp_ruin
Các mode liên quan
Tác giả
Chi tiết
Độ khó

Số người chơi tối đa

20

Kích thước

Nhỏ

Địa điểm

Di tích lịch sử

Cấu trúc

Đơn giản

Thời gian

Buổi trưa

Ruin là một bản đồ AWP Battle trong Counter-Strike Online.
Tổng quan
Edit
Một đội băn tỉa đã được cử đi tiêu diệt căn cứ bí mật của Khủng bố trong rừng sâu. Tại khu di tích cổ xưa, họ bất ngờ bị một nhóm bắn tỉa của TR phục kích. Một trận chiến ác liệt giữa những tay thiện xạ đã nổ ra tại đây. Chỉ cần một sơ xuất nhỏ là có thể mất mạng tức thì! Bản đồ này có thể chơi ở các chế độ Sinh tử, Đấu đội hoặc Đấu đơn.
Bạn có biết?
Edit
Phía dưới khu di tích có một căn hầm. Tại đây có dòng sông nham thạch cắt ngang, nếu không cẩn thận mà chạm vào nó thì bạn lập tức trở thành đống than.

Nó sẽ được tính như hành động tự sát nên sẽ không ảnh hưởng đến kill trong TDM và DM.

Bản đồ này được lấy cảm hứng từ một bản đồ không chính thức của Counter-Strike, awp_metro.
Bản đồ liên quan
Edit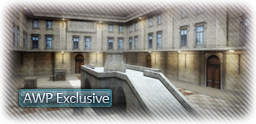 Ad blocker interference detected!
Wikia is a free-to-use site that makes money from advertising. We have a modified experience for viewers using ad blockers

Wikia is not accessible if you've made further modifications. Remove the custom ad blocker rule(s) and the page will load as expected.