Kính ngắm đêm (Night Vision Goggles hay NVG) là một thiết bị trong Counter-Strike Series và Counter-Strike Online. Nó có sẵn mặc định trong kho của người chơi.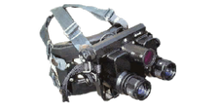 Tổng quan
Edit
Sau khi mua kính, người chơi có thể kích hoạt nó bằng cách nhấn phím N mặc định. Ánh sáng xanh giúp người chơi nhìn rõ hơn trong bóng tối của mọi map.
Có nhiều loại Kính ngắm đêm khác nhau :
Trong các chế độ thông thường, nó khiến toàn bộ bản đồ phát mạnh với màu xanh thẫm.
Trong Zombie Mods, màu xanh của nó nhạt hơn, zombies cũng có một màu đỏ nhạt.
Ad blocker interference detected!
Wikia is a free-to-use site that makes money from advertising. We have a modified experience for viewers using ad blockers

Wikia is not accessible if you've made further modifications. Remove the custom ad blocker rule(s) and the page will load as expected.