awp_greesia
Các mode liên quan
Tác giả
Chi tiết
Độ khó

Số người chơi tối đa

20

Kích thước

Nhỏ

Địa điểm

Bảo tàng

Cấu trúc

Đơn giản, cân bằng

Thời gian

Nửa đêm

Gressia là một bản đồ AWP Battle trong Counter-Strike Online.
Tổng quan
Edit
Trong suốt thời gian cuộc đọ súng xảy ra tại bảo tàng Greesia. Những nhân viên an ninh đã phải điều động thêm chi viện nhằm hỗ trợ cho các tay bắn tỉa hòng ứng phó vs team TR áp đảo họ. Kể từ lúc liên lạc cho quân chi viện bị gián đoạn, thì từ đó cả 2 phía CT và TR chỉ biết đặt niềm tin vào những cây súng họ cầm chắc trên tay để sống sót trong suốt diển ra cuộc chạm súng này.
Bạn có biết?
Edit
Bản đồ này dựa trên một map khác của Counter-Strike có tên là awp_india.
Nếu chơi ở chế độ Original, bạn có thể tìm thấy một ngôi mộ bí mật.
Bản đồ liên quan
Edit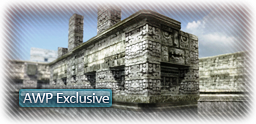 Ad blocker interference detected!
Wikia is a free-to-use site that makes money from advertising. We have a modified experience for viewers using ad blockers

Wikia is not accessible if you've made further modifications. Remove the custom ad blocker rule(s) and the page will load as expected.