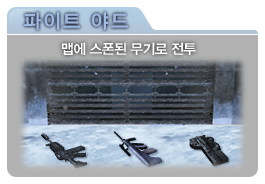 Fight Yard là một chế độ chơi của Fun trong Counter-Strike Online.
Tổng quan
Edit
Đây là một trong những chế độ chơi khá phổ biến của tựa game Counter Strike. Và bây giờ trong Counter-Strike Online nó hứa hẹn sẽ đem lại những giây phút không thể nào quên từ những phá đấu súng mặt đối mặt gay gấn. Chế độ này tương đối giống với Annihilation (Sinh tử) của Original. Điểm khác là người chơi sẽ không cần phải tích lượng tiền qua từng round đấu để trang bị item mà thay vào đó sẽ có sẵn vũ khí trên mặt đất. 2 đội sẽ lựa chọn những trang bị cần thiết cho mình rồi quyết đấu. Bên nào bị tiêu diệt trước thì thua cuộc và ngược lại kẻ còn lại là đội chiến thắng.
Bản đồ tương thích
Edit
Nhiệm vụ Danh dự
Edit
| Danh hiệu | Hướng dẫn | Chỉ tiêu |
| --- | --- | --- |
| [Weapon Master] | Hỡi anh em, những người có khả năng sử dụng và điểu khiền mọi khẩu súng mới là những tay súng cừ khôi nhất. Hãy thử xem bạn liệu đã là người xuất sắc nhất chưa! | Tiêu giệt kẻ thù với tất cả loại vũ khí theo số lượng kill yêu cầu của từng nhóm một. |
Bạn có biết
Edit
Fight Yard và map chính thức của chế độ này do chính cộng đồng đam mê Counter Strike tự sáng lập ra.
Ad blocker interference detected!
Wikia is a free-to-use site that makes money from advertising. We have a modified experience for viewers using ad blockers

Wikia is not accessible if you've made further modifications. Remove the custom ad blocker rule(s) and the page will load as expected.