Bot Zombie là một chế độ chơi có Bot trong Counter-Strike Online.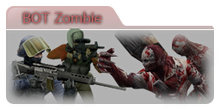 Tổng quan
Edit
Người chơi được chia vào phe con người và zombie. Một số Bot sẽ được chọn làm zombie. Zombie phải lây nhiễm toàn bộ con người trước thời gian quy định để chiến thắng và con người phải sống sót hoặc tiêu diệt hết zombie.
Chế độ gần giống Zombie Original và có một số đặc điểm:
Gợi ý chiến thuật
Edit
Con người ở chung với nhau
Zombie Bot khi thấy người chỉ biết đi tới và không rút lui hay nhìn về phía sau
Ném bom vào bầy zombie để đạt hiệu suất cao
Trốn trong ống sẽ khó sống sót với vũ khí yếu
Trong ống sẽ có dơi bay ra nếu có ai đi vào cửa bên phải.
Người chơi sẽ không bao giờ làm zombie gốc
Những con Bot chạy bên ngoài sẽ dễ thành zombie gốc
Khả năng gây choáng và knockback rất yếu trong mode này
Vũ khí của BOT
Edit
Map tương thích
Edit
Thành tích
Edit
Giết đồng đội cũng tính vào mở độ khó Bot cao hơn
Khi độ khó Bot tăng, zombie bot sẽ giỏi hơn human bot
Nếu có bắn đồng đội, đồng đội sẽ vẫn giết được trước khi zombie được chọn
Zombie Bot có thể nói nhưng không thể nghe được
Ad blocker interference detected!
Wikia is a free-to-use site that makes money from advertising. We have a modified experience for viewers using ad blockers

Wikia is not accessible if you've made further modifications. Remove the custom ad blocker rule(s) and the page will load as expected.